Meet Our Donors
A Secret Love and a Love Shared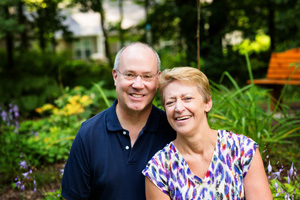 Keith Peterson was enjoying the scenery and the warmth of Julie's arms wrapped around his waist from behind him on the motorcycle. For a moment, he had allowed his eyes to wander away from the road. One moment was all it took.
"I didn't see the pickup in front of us stop," he says. "My brakes locked, and we spun out. I went flying over the handlebars, and Julie fell off the back of the bike."
Keith and Julie had been dating for a couple of years, but since they worked together at the same bank—Keith headed up the legal department, and Julie managed human resources at National City Bank (now PNC Bank)—they thought it was a good idea to keep their office romance quiet. When friends and colleagues heard about the accident, the jig was up.
"So we got married!" Julie laughs.
Bike riding in the country, however, was only one of their shared passions. There was another, much safer, one—music.
The couple today shares their Kalamazoo home with three cats and a still-growing collection of 13,000 music CDs. Several hours a day, Keith sits in a leather chair, centered in the Peterson living room, and listens to music, sometimes with a cat curled in his lap.
While Keith now works at Plunkett Cooney, a legal firm, Julie is regional manager at PNC Bank. Julie became familiar with The Gilmore Keyboard Festival through PNC Bank's sponsorship of The Gilmore.
"We host clients by taking them to concerts," she says.
The Petersons donate to The Gilmore in a variety of ways for a variety of reasons.
"Sponsoring the Rising Stars Series is our favorite way of giving," Keith says. The Rising Stars Series brings outstanding young artists from around the world to Kalamazoo.
"Every year, we choose a Rising Stars artist or two to sponsor," Julie adds. "We have dinner with them, and we talk about everything, not just music. This will be our fourth year sponsoring Rising Stars."
The Petersons also take advantage of the PNC Bank matching gift program.
"We give the maximum amount to get the highest matching gift," Keith says. "It's a wonderful benefit for employees."
The Petersons make an additional gift to The Gilmore's annual fund. "After all, you need operating funds," Keith says.
But there's more. The Petersons have thought into the future. They have named The Gilmore in their will.
"Think of it this way," Keith says. "You won't miss the money. But planned gifts and bequests are critical to The Gilmore as it grows. It can be the most significant gift of your lifetime."
A planned gift can be a monetary bequest, a retirement plan beneficiary designation, a life insurance policy, or a range of other options that fit a donor's circumstances.
"When it comes to giving to the Kalamazoo community, The Gilmore knocks it out of the park," Keith says. "They bring the world to Kalamazoo. These artists are heavily subsidized by donor gifts. That's why The Gilmore so appreciates its donors."
"And why we so appreciate great music," Julie says. "Our children say that we're the only house where the kids have to ask the parents to turn down the music when they come to visit."