Meet Our Donors
They Call Her the Arts Lady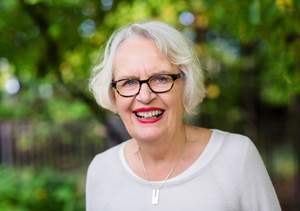 Judy Jolliffe has had a hand in just about every type of arts organization in greater Kalamazoo. Name it and chances are good Jolliffe has served as executive director, interim director, committee or board member in organizations such as the Arts Council of Greater Kalamazoo, Kalamazoo Symphony Orchestra, Fontana, Education for the Arts, Plaza Arts Circle, Epic Center, and, yes, the Irving S. Gilmore Keyboard Festival, where Jolliffe was interim director in the late 1990s and has since served as president of the Board of Trustees and as a concert sponsor.
"I have no talent in any of the arts!" Jolliffe laughs. "That's why I'm interested in all the arts."
That's a trait of Jolliffe's—interests that branch out in all directions and all pursued with great enthusiasm. She enjoys telling the story of her first try at music.
"My father had perfect pitch, and he loved to sing," Jolliffe says. "So when I brought home a violin, well, my father made me take it back the very next day. I was that bad."
When Jolliffe took dance classes as a girl, she noted her father in the audience at recital.
"He kept sinking down lower in his seat," she says. "And when I played the wicked witch in the Civic Junior Theatre, I was told that next time I would do better working back stage."
As a college student attending Michigan State University, Jolliffe changed her major—six times. In her second year, her parents suggested she might want to take a break from her studies.
Jolliffe moved to New York City, seeking the talent, the focus, she seemed unable to nail down at home. She stayed until, she says, she "got tired of being poor." Moving back to Kalamazoo, Jolliffe landed a position at IBM, where she worked for thirty years and where she met her husband. She served on the United Way committee while working at IBM.
"That was the beginning of my philanthropic involvement in Kalamazoo," Jolliffe says. "I thought, this is my hometown. I want to give something back."
Jolliffe soon found herself serving on another committee. And another. She sat on various boards for various organizations, and the more involved she became, the more she wanted to be.
Jolliffe had found her calling.
The Kalamazoo community recognized her talent for leadership in the arts, and Jolliffe was invited to serve as interim director and then director of the Arts Council of Greater Kalamazoo.
Jolliffe's involvement with the arts doesn't stop there. She believes passionately in giving not only of her time but in the form of financial support. The Gilmore is a favorite recipient.
"The more I learn about The Gilmore, the more I appreciate the caliber of musicians they bring to Kalamazoo," she says. "I may not have a deep knowledge of music, but I know what I like. I go to the performances and see how the audiences respond. It's a great experience that makes all of our lives richer."
To ensure that experience continues to be available for all, Jolliffe chose The Gilmore as a beneficiary of her life insurance policy. She also made The Gilmore a beneficiary for her Individual Retirement Account, which is a smart and revocable choice for all ages since retirement plans can be taxed multiple times upon inheritance.
"The ticket price for a performance is a very small percentage of what it costs to do what The Gilmore does," Jolliffe says. "The Gilmore needs and deserves our sustained support. It's money well spent. "